The idea that WE THE PEOPLE represents a new god will prove difficult for many readers. Let me defer to the inescapable truths of government and religion as presented by R.J. Rushdoony. Note his second point particularly:

Let me elaborate upon these points one at a time.

Point #1: "Law is in every culture religious in origin." There is no such thing as non-religious or morally neutral laws. All laws reflect a society's morality, and are therefore religious in both origin and nature. Because there is no morality outside Yahweh's morality, as codified in His commandments, statutes, and judgments, any legislation not in agreement with Yahweh's law is legalized immorality.

Point #2: "The source of law is the god of that society." Consider the following definition of "theocracy":

Not all theocracies are Christian. Some are Jewish, Hindu, Islamic, Buddhist, and some are secular. There is no escaping theocracy. A government's laws reflect its morality, and the source of that morality (or, more often than not, immorality) is its god. It is never a question of theocracy or no theocracy, but whose theocracy. The American people, by way of their elected officials, are the source of the Constitutional Republic's laws. Therefore, the Constitutional Republic's god is WE THE PEOPLE.

People recoil at the idea of a theocracy's morality being forced upon them, but because all governments are theocracies, someone's morality is always being enforced. This is an inevitability of government. The only question is which god, theocracy, laws, and morality will we choose to live under?

Because "…there is none other God but one" (1 Corinthians 8:4)6, there can be only one true theocracy. All other governments represent some form of humanism. The United States Constitutional Republic is one of many governments in which the people have dethroned Yahweh as the god of their society. All governments are theocentric – that is, god-centered. This is true of a government of, by, and for Yahweh, and it is true of a government of, by, and for the people. Herein we find the battle so often described in the Bible – the war between Yahweh's will and man's will:

The first three words of the Preamble are an expression of this eternal conflict. In Marbury v. Madison, Supreme Court Chief Justice John Marshal acknowledged that the Constitutional Republic is fixated on the gratification of its god:

Conversely, Christians9 are fixated on pleasing Yahweh:

Ron Paul, the 2008 Republican presidential candidate and one of today's greatest defenders of the Constitution, declared, "The idea of a theocracy very much annoys me."10 But, the fact is, a theocracy does not annoy Paul at all – at least not the theocracy of WE THE PEOPLE. He, like many Americans, is only offended by Yahweh's theocracy. One has to wonder if Paul wasn't influenced by a symposium of evangelical leaders, who in 1985, said nearly the same thing:

Talk about a house divided against itself. Christians have somehow been convinced that unregenerate men with their imperfect laws and unrighteous judgments can do a better job of governing than can regenerated men with Yahweh's perfect laws and altogether righteous judgments. G.K. Chesterton wrote, "The Christian ideal has not been tried and found wanting. It has been found difficult; and left untried."12

Point #3: "In any society, any change of law is an explicit or implicit change of religion." This means that with any change of law an explicit or implicit change of gods occurs as well. More on this later.

Point #4: "No disestablishment of religion as such is possible in any society." Every society's government is religious in nature because all law is religious in origin and reflects the god of that government. There is no escaping this reality. Ironically, in his book The Nature of the American System, Rushdoony attempted to escape this reality as it pertained to the Constitution by claiming the federal government was neither secular nor Christian. He alleged it was religiously neutral, even though later he declared neutrality impossible:

If the Constitutional Republic is not Christian, what is it? It has to be Judaic, Islamic, Buddhist, some other specific religious orientation, or secular (religiously humanistic).

Point #5: "There can be no tolerance in a law-system for another religion." All law systems are intolerant of laws inconsonant with their own. Rushdoony elaborated, "Every law-system must maintain its existence by hostility to every other law-system and to alien religious foundations or else it commits suicide."14 This was essentially stated in the following Supreme Court cases, so often peddled by Constitutionalists:

Marbury v. Madison, (1803)15
Norton v. Shelby County, (1886)16
A Change of Religion
How does this statement reflect upon the Constitution? History demonstrates that during the 17th and early 18th centuries, Yahweh's law governed the majority of what was then America. The following are but two of the documents attesting that early Americans formed Christian governments designed around Yahweh's law18:

The 1639 agreement makes no reference to any other government as its source of authority:

Its longevity is also remarkable:

Almost as impressive as New Haven's agreement are the testimonies to it and other similar documents:

Richard Mosier identified the Puritan Bible as not "only the holy restored word of God, but a constitutional document of the Protestant movement."22 Note, an American constitution existed almost 150 years prior to the United States Constitution.
America was exalted in the eyes of the world because of her applied righteousness, embodied in Yahweh's perfect law. Since 1788, when the United States of America, as a nation, stopped following Yahweh's laws and began following the laws of WE THE PEOPLE, our legislation has ceased providing righteous instruction to others. Instead, the rest of the world now holds America in disdain. If America hopes to regain her favored status in the eyes of the world, she must return to her original Constitution.

McGuffey's Eclectic Reader, America's most popular school book in the 1800s, also testified to America's early form of theocratic government:
William McGuffey was undoubtedly influenced by the writings of renowned early American preachers such as John Cotton:

John W. Welch commented on the outstanding influence Yahweh's law had in Colonial America:

Considerable differences existed between Christendom of the 1600s and early 1700s and Christianity of the late 1700s:

Late eighteenth-century Christianity, on the other hand, was quite different from the Christendom of early America:

This means that government based upon the law of Yahweh was also all but dead.

The framers of the Constitution, although mostly churchgoers, were not the same cut of churchmen as those of the 17th century. The churches of the late 18th century and the churches of the 17th century were radically different. The former were interested in building the kingdom of God based upon the perfect law of Yahweh. The latter were hardly interested in Yahweh's law at all, which certainly contributed to the absence of quotations from, or even references to, the laws of Yahweh in the Constitution. The Federalist Papers and the four volumes of notes from the Constitutional Convention are also conspicuously deficient in Bible references. God is mentioned twice in the Federalist Papers, and then only offhand:

The theological differences between the worldviews of the Puritans and the constitutional framers are striking:

Mosier had more to say regarding America's most significant paradigm shift, to date:

The "world" created by America's original Christian forefathers was turned upside down by the Constitutionalists in the late 1700s:

According to Abraham Lincoln, constitutionalism is a religion itself, demanding absolute devotion and obedience to the Constitution and all laws made in pursuance thereof:

Most Americans, non-Christians and Christians alike, have done precisely that.

Constitution vs. Constitution
Warren Burger, Supreme Court Chief Justice43
The constitutional form of government established in the late 1700s was not practiced in the 1600s or early 1700s. A change of law and government occurred in the late 1700s, not only from English rule, but also from the Colonies' Biblically based governments. From that moment on, the nation that had been predominately Christian became progressively secular and humanistic:

The change of law and government in the late 1700s brought about a change of religion, and because the former law and government represented Yahweh, both He and His law were necessarily discarded for the new god and its laws. This is difficult to accept, especially since we have incessantly been told the constitutional framers were such godly men.

Today's Christian Constitutionalists are quick to share the framers' Christian-sounding quotations. Hundreds of books, replete with such quotations, have been compiled, and no one can question that many of them often said the right things regarding Yahweh, His Son, Christianity, and occasionally even His law. But such statements mean nothing by themselves. Thomas Jefferson made Christian-sounding statements, but no one would argue that he was a Christian. Politicians are famous for saying the right things. Two-hundred years from now, Christian historians will be using Christian-sounding statements from Bill Clinton, George W. Bush, and Barack Obama to buttress declarations that these men were great Christians.

Constitutionalists would do well to heed Job's young friend Elihu who declared that "great men are not always wise," which he preceded with the test of greatness: "the inspiration of the Almighty giveth them understanding" (Job 32:8-9). The framers failed the test of greatness when they disregarded Yahweh's inspiration by ignoring and failing to instate His law:

Some people seem to believe the only thing necessary to prove one's Christianity is an invocation of God. This erroneous and dangerous assumption opens the door to political abuse in the name of Christ and the Christian sanction of ungodly actions – including those of the constitutional framers.

What is required for the Constitution to be a truly Christian covenant?

Recognizing the Bible and Christianity's influence upon society is not the same as legislating and adjudicating according to Yahweh's law. One only needs to look at the record to know there has been a dearth of the latter since the Constitution's ratification. In order to conclude the Constitution is a Christian document, today's Christian Constitutionalists have severed the framers' words from their actions. To date, the battle between Christians and secularists over the Constitution has been a war of quotations – and there are plenty to go around for both sides, often from the same framers. Take James Madison for example:
The only means of determining whether the framers were Christians is to compare their actions to the Word of God:

This is a perfect description of the constitutional framers. Although some of them claimed to be Christians, they openly practiced lawlessness. For example, David Barton (founder and president of WallBuilders) and others laud Benjamin Rush, a signatory of the Declaration of Independence, as one of America's great Christian founding fathers, and yet in "An Enquiry into the Effects of Public Punishments Upon Criminals, and Upon Society" (which promoted the unbiblical prison system and rejected Yahweh's punitive system of public executions and restitution), Rush lauded capricious reason as the means of determining what is right:

The framers nowhere attributed the inspiration for any specific article or amendment in the Constitution to the Bible or the laws of Yahweh. After reviewing over 2,200 political writings published between 1760 and 1805, David S. Lutz and Charles S. Hyneman came to some very interesting conclusions regarding the Bible's influence upon the constitutional framers and others of that period. Lutz admitted that while the "book … most frequently cited by Americans during the founding era [was] … the Book of Deuteronomy, … the Bible's prominence disappears [during the Federalist/Anti-Federalist debate over the Constitution]," and "the Federalists' inclination to Enlightenment rationalism is most evident here in their failure to consider the Bible relevant."49 Between the 1770s and '80s, Biblical quotations decreased among both Federalists and Anti-Federalists, while Enlightenment and Whig citations increased.

The Constitution was inspired, not by Yahweh, but by a small group of men claiming to represent their new god WE THE PEOPLE. Patrick Henry (who refused to be one of Virginia's delegates to the Constitutional Convention, claiming he smelled a rat) later insisted the conventioneers had no right to claim they represented the people. Nevertheless, by their silence, the people gave their assent, as did those in 2 Samuel 24 when King David pursued an unlawful census. David did not take the brunt of Yahweh's wrath, but rather the people who allowed David to proceed with the census.

Judgment of the people for the transgressions of their rulers is found time and again in the Bible (2 Kings 24:1-4, 2 Chronicles 28:19, etc.). The people are ultimately responsible. They were responsible when the constitutional conventioneers chose a new god, and we will continue to be responsible until we rise up, repent of our forefathers' sins, overthrow WE THE PEOPLE's constitution, and return to Yahweh's constitution.

Internal Evidence
Francis Schaeffer50
The Preamble is arguably the most brazen human claim to sovereignty ever written. If you stop and think about its presumptuous claims, you will see that this new constitution is humanism of the rankest sort:

The framers not only compromised Yahweh's law, they completely ignored it, and, in many instances, legislated against it (and the wicked have compassed the righteous ever since). With such a significant Christian beginning in the 1600s, how can we have strayed so far from our Christian roots? The answer is simple: the framers' hearts were divided (Hosea 10:2). Consequently, Yahweh's law was slacked, and once that door was unbolted, there was nothing to stop the continuing compromise, especially when Christians herald the very document that started them down the pernicious road on which we find ourselves today.

Because America has sown the wind by transgressing Yahweh's Covenant and trespassing His law, she is now reaping the whirlwind. Thanks to countless cases like O.J. Simpson's and Stella Liebeck's (the infamous McDonald's coffee spiller), both Christians and non-Christians alike are wondering what has happened to justice.

When the wicked surround the righteous, justice is eventually sacrificed either on the altar of public opinion or the altar of political correctness. What little justice the Constitution provides is negated by its unrighteousness.

Today's heathens possess dwelling places that do not, by covenant, belong to them. They hold these high places due to the abdication of the true possessors. Christians have given the kingdom away as the result of doctrines promoting 1) an exclusively future kingdom, 2) the kingdom in heaven rather than the kingdom of heaven, 3) the idea that "this world is not my home," 4) the irrelevance of Yahweh's law under the New Covenant, and 5) a nearly absolute obedience to any and all government authority.

The New American Standard Bible renders verse 7 more accurately: "their justice and authority originate with themselves." The Preamble declares that "WE THE PEOPLE," for various reasons, do "ordain and establish this constitution…." In Deuteronomy 12:8, Moses warned, "Ye shall not do after … whatsoever is right in [every man's] own eyes." Constitutionalism is a collective, agreed-upon form of humanism. By their silence, and thus their acquiescence to this new form of government, the American people claimed their authority, not from Yahweh, but from themselves.
In one of his many arguments on behalf of the Constitution, Madison revealed where ultimate power resides in a Constitutional Republic:

Alexander Hamilton stated it similarly:

This emphasis on the people by both the federalists and anti-federalists alike is evidence that they had lost sight of Yahweh and His ultimate authority. Such an emphasis on the people cannot be found anywhere in the Bible. George Washington (who presided over the Constitutional Convention) confirmed this self-originating authority in his "Farewell Address":

The Constitutional Republic's fifth president, James Monroe, concurred:

John Adams confessed to the same humanism regarding the States' Constitutions:

Following are samplings from some of the State Constitutions:

A return to the States' Constitutions and the Articles of Confederation will not solve America's propensity for humanism.

In his repudiation of the National Association for the Amendment of the Constitution [to recognize "the rulership of Jesus Christ and the supremacy of the divine law"], Horace Greeley wrote, "Almighty God is not the source of authority and power in our government; the people of The United States are."56
Establishing Justice
According to Habakkuk, not only did the Chaldeans' authority originate with themselves, but so did their justice. And so does the justice of WE THE PEOPLE: "WE THE PEOPLE of the United States, in order to form a more perfect union, establish justice…." What an audacious assertion. Only Yahweh is just, and only He can establish justice:

In a lecture entitled The Common Law, Constitutional Attorney Herb Titus claimed that the Preamble's assertion that WE THE PEOPLE established justice did not authorize "the national government to define justice."57 However, because the Constitution never declares Yahweh's law the standard for determining justice, the definition of justice has always been left to the federal and state governments. Instead of confirming the justice inherent in Yahweh's morality and already established in His perfect law, the framers' declaration implies that justice had yet to be established. This (and other numerous confirmations throughout the Constitution) reveals they preferred their own justice to the justice of Yahweh.

Anytime autonomous man attempts to establish justice outside Yahweh's moral laws, the result is always injustice. In Isaiah 5:20, this transposition is depicted as calling good evil and evil good. The word "autonomous" comes from two Greek words: auto meaning self and nomos meaning law. The word, which literally means "self-law," is just another way of describing humanism and, in this instance, constitutionalism.

In a lecture entitled "God, Man, Legal Education & Law," Titus summarized by pointing to the source of justice. He seemed oblivious that his statement condemned the Constitution he promotes:

Earlier in the same lecture, he asked and answered the following question: "What's the problem with building a legal system based upon man's reason even though it might be man's best reason? [The answer] is that man's reason changes."59 And, yet, after admitting to this problem, Titus champions a legal system based upon man'reason rather than Yahweh's law.

Justice is defined as "the quality of being just; righteousness, equitableness, or moral rightness."60 This is a perfect description of Yahweh and His law, particularly from the perspective found in Isaiah 33:22 and James 4:12 that there is only one lawgiver and judge. All law, righteousness, equity, morality, truthfulness, and justice originate with and emanate from Him. None of this exists outside Yahweh and His law, and it all existed long before 1787. Because the Constitution did not uphold Yahweh's lawfulness, righteousness, and justice, it established lawlessness, unrighteousness, and injustice. Christian Constitutionalists recognize this in regard to any other false god. Their unwillingness to apply the same criterion to WE THE PEOPLE is evidence that WE THE PEOPLE is indeed a god to them.

Tribunals of Injustice
Augustine61
Most people recognize that today's courts are tribunals of injustice. When the constitutional framers excluded Yahweh's justice, they opened the door for justice to be defined however judges choose to define it. In other words, the Constitution allows justice to originate with the judges themselves. Any constitution or government formed with designs to define and establish justice of itself denies and stands opposed to the kingdom of Jesus62:

Jesus' purpose was to execute justice here on earth once His kingdom was established at His first advent. (See Chapter 2 "The Kingdom: Yesterday, Today, and Forever" for Biblical evidence that Jesus' kingdom was established at His first advent.) The constitutional framers rejected Jesus' government and justice in an attempt to establish their own notion of justice. But justice cannot exist outside Yahweh, and only Yahweh's subjects, who serve Him according to His perfect laws and righteous judgments, are able to render justice:

When the constitutional framers spoke of justice in the Preamble, they were not speaking of the justice that originates with Yahweh, but rather "justice" that originated with themselves. Otherwise, they would have followed the example of our Christian forefathers in the 1600s and early 1700s and cited, or at least mentioned, the laws of Yahweh upon which their justice was based.

A More Perfect Union
In contrast with New Haven's 1639 Agreement ("we all agree that the scriptures hold forth a perfect rule for the direction of government"), one of the purposes for this new Constitution was "to form a more perfect union." What the framers had in mind was a union "more perfect" than that of the Articles of Confederation. However because the Articles of Confederation and the Constitution were both based upon the imperfect laws of man, both were a far cry from the governments of the New England Colonies.

"More perfect" is not the same as perfect. Neither the framers nor the Constitution nor the union it formed were perfect. Yahweh, His knowledge, His work, His way, His will, and His law are perfect.63 Therefore, His government must also be perfect. The question we all face is whether we believe this. John Milton (1608-1674) believed Yahweh's government exceeded those of Greece and Rome:

Milton would have certainly claimed the same regarding the United States government, particularly because the Constitutional Republic was fashioned after Roman law. What the framers believed can only be determined by their actions, and their actions make it clear they did not believe in Yahweh's perfection. Otherwise, they, like the Colonialists, would have established a government based upon His perfect law. Instead, they were willing to settle for something more perfect, which resulted in something far less than perfect.

How about us? What are we willing to settle for? As a nation, we settled for Bill Clinton, the Bushes, and Barack Obama. Why? Because, like the Israelites in 1 Samuel 8, most Americans desire a finite flesh-and-blood president instead of the King of kings. This can only be because – despite what some may claim – they do not believe in the perfection of Yahweh, His way, His work, His will, His law, and His government. The framers and most of today's Americans (non-Christians and Christians alike) are more like the men of Israel in 1 Samuel 8 than Gideon:

Securing Liberty
As stated in the Preamble, another purpose of the Constitution is to "secure the blessings of liberty to ourselves and our posterity." From childhood, Americans are indoctrinated to believe that, thanks to the Constitution, America is the freest nation on earth:

Convinced the Constitution would fail to secure and protect liberty, Patrick Henry voiced his concerns to the Virginia Ratifying Convention in 1788:

In contrast to the federalists' failed predictions, this and nearly everything the anti-federalists forecast about the Constitution has come true.

Consider carefully the empty claim of the Constitution Party's 2008 Presidential Candidate, Chuck Baldwin:

This is an example of calling evil good and good evil or, in this instance, calling slavery freedom and freedom slavery. The liberties once enjoyed in this nation were secured in the 1600s – not the late 1700s – by means of Yahweh's perfect law of liberty – not the Constitution:

Baldwin's declaration that our liberty, peace, happiness, security, and way of life were provided by the Constitution "under God" does not vindicate him any more than did Aaron's attempt to name the golden calf Yahweh in Exodus 32. Like Aaron and Baldwin, Constitutionalists are notorious for attempting to make Yahweh an accomplice to their idolatry.

Except for occasional interference from the British kings across the Atlantic, this nation experienced its greatest liberty in the 1600s and early 1700s. From the ratification of the Constitution until now, our liberty has been whittled away. At present, we would be hard-pressed to find a nation with less liberty than the United States of America. As Pastor Mather Byles purportedly put it before the American War for Independence: "Which is better – to be ruled by one tyrant three thousand miles away, or by three thousand tyrants not a mile away?"

It is extremely difficult to convince well-fed, content, and happy Americans they are not free. But contentment has nothing to do with freedom. A slave is a slave even if he's fat and happy. "None are more hopelessly enslaved than those who falsely believe they are free."69

2 Corinthians 3:17 states, "…where the Spirit of the Lord is there is liberty." The Spirit of the Lord cannot be found in the Constitution because Yahweh and His perfect laws of liberty were flagrantly disregarded. Instead of liberty, the Constitution provided us with bondage: dishonest and reprobate legislators, ever-expanding debt, an ungodly court system, an unnecessary and inept prison system, corruption, licenses, permits, countless registrations, ungodly wars, in addition to taxes on nearly everything. None of these atrocities can occur under Yahweh's system of law.

What has been the fruit of the Constitution? We have only to look at the historical record of the last 200-plus years to know the Constitution shackled us with slavery. Man-made surrogates never have and never will provide liberty. Only Yahweh, by way of Jesus' blood-atoning sacrifice and resurrection, can free us as individuals, and only His perfect laws of liberty can free us as a nation.

Americans are noted for gullibility, and their unfounded confidence in the Constitution is no exception. Because the Preamble tells them the Constitution was ordained to secure their liberty, most Americans take it at its word, despite the fact that the first three articles of the Constitution enslave us to an ungodly congress, president, and judicial system – something the 17th- and early 18th-century Christians flourished without.

The constitutional framers could not provide their fellow Americans with liberty for the simple reason that slaves are never able to grant freedom to fellow slaves:

The Missing God
The absence of any mention of Yahweh will always dog those who desperately want to make the Constitution either Biblical or Christian:

How can a document that snubs the God of the Bible be Biblical? How can a document that ignores Christ be Christian?

Although it is true that four or five weeks into the Constitutional Convention, Benjamin Franklin proposed "prayers imploring the assistance of heaven, and its blessing upon our deliberations, be held in this assembly,"73 his proposal did not even merit a vote.74 Franklin wrote, "The Convention, except three or four persons, thought prayers unnecessary."75 This alone is an abomination to Yahweh:

Die-hard Constitutionalists often try to justify the framers' failure to follow through on Franklin's proposal with the following, taken from Madison's Journal of the Convention, as if it excused the framers' dereliction in seeking Yahweh's favor and direction:

Who cares how it would have appeared to others? Hamilton's excuse sounds all too similar to the excuses of today's politicians. What kind of Christian men would neglect prayer because they could not pay someone to pray for them, especially since three of the framers were active clergy?

Despite the fact that the framers did not collectively seek Yahweh either before or after Franklin's proposal, baseless claims like the one below are common among Constitutionalists:

Because the framers legislated contrary to Yahweh's morality, it is doubtful He would have paid them any heed even if they had prayed at the Convention:

Franklin's proposal included the following:

Gary DeMar hit the proverbial nail on the head:

Is it any wonder that the Constitutional Republic has proved such a failure?

Hamilton and the other framers should have considered the following admonition:

To forget Yahweh is to forget His law, with consequences equally calamitous:

In 1812, in a speech to students assembled in the Yale College chapel, Pastor Timothy Dwight summed up this travesty:

Humanist Manifesto II, written in 1973, asserts: "As non-theists, we begin with humans, not God, nature, not deity."83

Conclusion
Idolatry – man making gods in his own image – is the epitome of stupidity. This is precisely what the constitutional framers did when they fashioned the god they christened "WE THE PEOPLE," in whom they imputed authority and power. Isaiah 44:17 depicts idolaters futilely begging their idol, "Deliver me; for thou art my god." Most Americans appeal to the laws of WE THE PEOPLE for deliverance rather than to the laws of Yahweh. Consider Jeremiah's poignant warning:

This passage, by itself, denounces any contract of the people, by the people, and for the people. Idols are never surrendered easily. Like the Ephesians in Acts 19 who cried out for two hours, "Great is Diana of Ephesians!," most Americans have been crying out for over two centuries, "Great is the Constitution of the United States!"

2 Chronicles 7:14
Many Americans have had similar sentiments during the last 200-plus years. Christians are incessantly claiming 2 Chronicles 7:14: "If my people, which are called by my name, shall humble themselves, and pray, and seek my face, and turn from their wicked ways; then will I hear from heaven, and will forgive their sin, and will heal their land." Tragically, the very people who claim this verse fail to heed it:

Because our prayers for national deliverance are not being answered, we have obviously failed to fulfill the requirements found in 2 Chronicles 7:14. The Constitution represents our national idolatry, and until we repent of our veneration of WE THE PEOPLE and all it represents, we cannot expect Yahweh to hear our prayers and heal our land. In fact, such a request is akin to Joshua's prayer regarding Israel's defeat at Ai. Following is Yahweh's response:

Until Christian Americans recognize and destroy the accursed thing in our midst, we have no reason to believe Yahweh will hear our prayers for deliverance.

---
---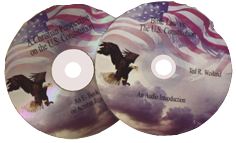 Click to order the Bible Law vs. The United States Constitution CDs:
1. YHWH (most often pronounced Yahweh) is the English transliteration of the Tetragrammaton, the principal Hebrew name of the God of the Bible. For a more thorough explanation concerning the sacred names of God, "The Third Commandment" may be read online, or the book Thou shalt not take the name of YHWH thy God in vain may be ordered from Bible Law vs. The United States Constitution, PO Box 248, Scottsbluff, Nebraska 69363, for a suggested $4 donation.*
2. Gary North, Conspiracy in Philadelphia: The Broken Covenant of the U.S. Constitution (Draper, VA: Nicene Council.com, 2004) p. 322.
3. Rousas John Rushdoony, The Institutes of Biblical Law (The Presbyterian and Reformed Publishing Company, 1973) pp. 4-5.
4. Random House Webster's College Dictionary, s.v. "theocracy" (New York, NY: Random House, Inc., 2000) p. 1356.
5. Gary DeMar, "Defining Terms: Theocracy," 26 February 2007, http://americanvision.org/1629/defining-terms-theocracy/.
6. All Scripture is quoted from the King James Version, unless otherwise noted. Portions of Scripture have been omitted for brevity. If you have questions regarding any passage, please study the text to ensure it has been properly used.
7. Where the Tetragrammaton (YHWH) – the four Hebrew characters that represent the personal name of God – has been unlawfully rendered the LORD or GOD in English translations, I have taken the liberty to correct this error by inserting YHWH where appropriate. For a more thorough explanation concerning the use of the names of God, "The Third Commandment" may be read online, or the book Thou shalt not take the name of YHWH thy God in vain may be ordered from Bible Law vs. The United States Constitution, PO Box 248, Scottsbluff, Nebraska, 69363, for a suggested $4 donation.*
8. Marbury v. Madison, 5 U.S. (1 Cranch) 137; 2 L. Ed. 60 (1803).
9. Not everyone claiming to be a Christian has been properly instructed in the Biblical plan of salvation. Mark 16:15-16; Acts 2:36-41, 22:1-16; Romans 6:3-4; Galatians 3:26-27; Colossians 2:11-13; and 1 Peter 3:21 should be studied to understand what is required to be covered by the blood of Jesus and forgiven of your sins. For a more thorough explanation concerning baptism and its relationship to salvation, the book Baptism: All You Wanted to Know and More may be requested from Bible Law vs. The United States Constitution, PO Box 248, Scottsbluff, Nebraska 69363, for free.
10. PBS, Bill Moyers Journal, 4 January 2008.
11. Kenneth S. Kantzer, "Summing Up: An Evangelical View of Church and State," Christianity Today (April 1985) p. 58, quoted in Dennis Woods, Discipling the Nations: The Government Upon His Shoulder (Franklin, TN: Legacy Communications, 1996) p. 140.
12. Gilbert Keith Chesterton, What's Wrong with the World (New York, NY: Dodd, Mead and Company, 1910) p. 48.
13. Rousas John Rushdoony, The Nature of the American System (Vallecito, CA: Ross House Books, 1965/2001) pp. 82, 87, and 88.
14. Rousas John Rushdoony, The Institutes of Biblical Law, pp. 5-6.
15. Marbury v. Madison, 5 US (2 Cranch) 137, 164, 176 (1803).
16. Norton v. Shelby County, 118 US 425, 442 (1886)
17. Rousas John Rushdoony, Lecture: The U.S. Constitution Changed.
18. Because man is finite, he is imperfect. It's not surprising that early American history provides examples of digression from Yahweh's laws (the Salem witch trials, the Mary Dyer case, etc.) among those professing to keep them. This does not change the general intent of the early Americans to live and be ruled by Yahweh's law. These exceptions do not reflect a failure of Yahweh's theocracy. They reflect man's departure from His law.
19. John Fiske, The Historical Writings of John Fiske, 12 vols. (Boston, MA: Houghton Mifflin Company, 1902) vol. 6, p. 155.
20. Mark A. Beliles, Douglas S. Anderson, Contending for the Constitution: Recalling the Christian Influence on the Writing of the Constitution and the Biblical Basis of American Law and Liberty (Charlottesville, VA: Providence Foundation, 2005) p. 95.
21. John Clark Ridpath, History of the United States, 4 vols. (New York, NY: The American Book Company, 1874) vol. 1, p. 181.
22. Richard Mosier, The American Temper (Berkeley, CA: University of California Press, 1952) p. 44.
23. Alexis de Tocqueville, Democracy in America, 2 vols. (New York: NY: The Colonial Press, 1899) vol. 1, pp. 36-37.
24. William Holmes McGuffey, McGuffey's Sixth Eclectic Reader (New York, NY: American Book Company, 1879) p. 225.
25. Jeremy Belknap, John Farmer, The History of New-Hampshire (Dover, NH: George Wadleigh, 1862) pp. 42-43.
26. John W. Welch, "Biblical Law in America: Historical Perspectives and Potentials for Reform," Brigham Young University Law Review, 30 September 2002, http://www.contra-mundum.org/essays/theonomy/WEL1.pdf.
27. Daniel J. Boorstin, The Americans: The Colonial Experience (Norwalk, CT: The Easton Press, 1987) pp. 5-6.
34. Thomas Hall erred concerning a connection between Judaism and Puritanism. He should have used the term "Hebraism." Judaism or Talmudism, a corrupt and blasphemous religion brought back from Babylon to Judea, has little to do with the Hebraism of the Old Covenant. God's Covenant People: Yesterday, Today and Forever conclusively proves that Hebraism and Judaism are two different and adversarial religions. God's Covenant People may be read online, or the book may be ordered from Bible Law vs. The United States Constitution, PO Box 248, Scottsbluff, Nebraska 69363, for a suggested $14 donation.*
35. Thomas Cumming Hall, The Religious Background of American Culture (Boston, MA: Little, Brown, and Company, 1930) pp. 184-85, quoted in Gary DeMar, America's Christian History: The Untold Story (Powder Springs, GA: American Vision, Inc., 1993/2008) pp. 83-84.
36. C. Gregg Singer, A Theological Interpretation of American History (Phillipsburg, NJ: Presbyterian and Reformed Publishing Co., 1964) pp. 13-14.
41. Nicolas Lehman, The New Republic, quoted in Isaac Kramnick and R. Laurence Moore, The Godless Constitution: The Case Against Religious Correctness (New York, NY: W.W. Norton & Company, 1966) p. 1.
42. Abraham Lincoln, "The Perpetuation of Our Political Institutions: Address Before the Young Men's Lyceum of Springfield, Illinois, January 27, 1838," Abraham Lincoln Online: Speeches & Writings, http://showcase.netins.net/web/creative/lincoln/speeches/lyceum.htm.
43. Warren E. Burger, Foreword, Patrick T. Conley and John P. Kaminski, eds., The Constitution and the States: The Role of the Original Thirteen in the Framing and Adoption of the Federal Constitution (Madison, WI: Madison House, 1988) p. vii.
44. Gary DeMar and Peter Leithart, The Reduction of Christianity: A Biblical Response to Dave Hunt (Ft. Worth, TX: Dominion Press and Atlanta, GA: American Vision, 1988) p. 300.
45. Dennis Woods, Discipling the Nations: The Government Upon His Shoulder (Franklin, TN: Legacy Communications, 1996) p. 25.
47. James Hutson, "James Madison and the Social Utility of Religion: Risks vs. Rewards," James Madison : Philosopher and Practitioner of Liberal Democracy, Library of Congress http://www.loc.gov/loc/madison/hutson-paper.html
48. Benjamin Rush, "An Enquiry into the Effects of Public Punishments Upon Criminals, and Upon Society," read in the Society for Promoting Political Inquiries, convened at the house of His Excellency, Benjamin Franklin, Esquire, in Philadelphia, March 9, 1787, http://english2.byu.edu/facultysyllabi/KLawrence/RUSH.punishments.pdf.
49. Donald S. Lutz, "The Relative Influence of European Writers on Late Eighteenth-Century American Political Thought," The American Political Science Review (March 1984) pp. 189-97.
50. Francis Schaeffer, A Christian Manifesto (1981), in The Complete Works of Francis Schaeffer, 5 vols. (Wheaton, IL: Crossway Books, 1982) vol. 5, p. 426.
51. James Madison, The Federalist, No. 46 (New York, NY: G.P. Putnam's Sons, 1888) p. 217.
52. Alexander Hamilton, The Federalist, No. 22 (New York, NY: G.P. Putnam's Sons, 1888) p. 135.
53. George Washington, Worthington Chauncey Ford, ed., The Writings of George Washington, 14 vols. (New York; NY: G.P. Putnam's Sons, 1892) vol. 13, p. 297.
54. James Monroe, "Views of the President of the United States on the Subject of Internal Improvements," 4 May 1822, http://press-pubs.uchicago.edu/founders/documents/preambles20.html.
55. John Adams, The Works of John Adams, 10 vols. (Boston, MA: Little, Brown, and Company, 1865) vol. 4, pp. 292-93.
56. Horace Greeley, quoted in Robert Michael, A Concise History of American Antisemitism (Lanham, MD: Rowman & Littlefield Publishers, Inc., 2005) p. 87.
57. Herb Titus, The Common Law, Lecture #2, 1998.
58. Herb Titus, "God, Man, Legal Education & Law," Disc 1, God, Man, & Law: The Biblical Principles (Powder Springs, GA: The American Vision, 2007).
60. Random House Webster's College Dictionary, s.v. "justice," p. 720.
61. Augustine, De Civ. Dei, IX:4.
62. Yeshua is the English transliteration of our Savior's given Hebrew name, with which He introduced Himself to Paul in Acts 26:14-15. (Jesus is the English transliteration of the Greek Iesous, which is the Greek transliteration of the Hebrew Yeshua.) Because many people are unfamiliar or uncomfortable with Yeshua, I have chosen to use the more familiar Jesus in this book in order to remove what might otherwise be a stumbling block. For a more thorough explanation concerning the use of the sacred names of God, "The Third Commandment" may be read online, or Thou shalt not take the name of YHWH thy God in vain may be ordered from Bible Law vs. The United States Constitution, PO Box 248, Scottsbluff, Nebraska 69363, for a suggested $4 donation.*
63. Matthew 5:48, Job 31:16, Deuteronomy 32:4, 2 Samuel 22:31, Romans 12:2, and Psalm 19:7.
64. John Milton, quoted in Charles B. Galloway, Christianity and the American Commonwealth (Powder Springs, GA: American Vision, 2005) p. 61.
65. James Bruggeman, epilogue to Christian Duty Under Corrupt Government: A Revolutionary Commentary of Romans 13:1-7, by Ted R. Weiland, 2nd ed. (Scottsbluff, NE: Bible Law vs. The United States Constitution, 2006, 2nd ed.). Christian Duty Under Corrupt Government may be ordered from Bible Law vs. The United States Constitution, PO Box 248, Scottsbluff, Nebraska 69363, for a suggested $7 donation.*
66. Lysander Spooner, No Treason, No. VI, The Constitution of No Authority, http://praxeology.net/LS-NT-6.htm#.
67. Patrick Henry, Ralph Ketcham, ed., "Speeches of Patrick Henry (June 5 and 7, 1788)," The Anti-Federalist Papers and the Constitutional Convention Debates (New York, NY: Penguin Books, 2003, 2nd ed.) pp. 200-08.
68. Chuck Baldwin, "Save The Planet? How About Saving The Republic?," 30 July 2008, Chuck-Wagon Email Commentary, www.chuckbaldwinlive.com/c2008/cbarchive_20080730.html.
69. Johann Wolfgang von Goethe, Otto Wenckstern, trans., Goethe's Opinions on the World, Mankind, Literature, Science and Art (London, UK: John W. Parker and Son, 1853) p. 3.
70. Alexander M'Leod, D.D., "The Character, Causes, and Ends of the Present War" (1815), quoted in Rev. D. M'Allister, "Testimonies of Religious Defect of the Constitution," Proceedings of the Fifth National Reform Convention to Aid in Maintaining the Christian Features of the American Government, and Securing a Religious Amendment to the Constitution of the United States, Held in Pittsburg, February 4, 5, 1874, With a History of the Origin and Progress of the Movement (Philadelphia, PA: Christian Statesman Association, 1874) p. 46.
71. John M. Mason, D.D., ed. Ebenezer Mason, 4 vols., The Complete Works of John M. Mason, D.D. (New York, NY: Baker and Scribner, 1849) vol. 3, p. 53.
72. Harry Elmer Barnes, History and Social Intelligence (New York, NY: Alfred A. Knopf, 1926) pp. 347-48.
73. Benjamin Franklin, http://www.americanrhetoric.com/speeches/benfranklin.htm.
74. Robert Yates, "Secret Debates of the Federal Convention of 1787," Secret Proceedings and Debates of the Constitutional Convention 1787, Entered according to Act of Congress in the year 1838 (Hawthorne, CA: Omni Publications, 1986) pp. 197-98.
75. Benjamin Franklin, quoted in William Templeton Franklin, Memoirs of the Life and Writings of Benjamin Franklin (London, UK: Henry Colburn, 1818, 3rd ed.) p. 195.
76. James Madison, E.H. Scott, ed., Journal of the Federal Convention (Chicago, IL: Albert, Scott & Co., 1893) p. 260.
79. Benjamin Franklin, http://www.americanrhetoric.com/speeches/benfranklin.htm.
80. Gary DeMar, "Ding, Dong the Law is Dead (With Apologies to Frank Baum)," Biblical Worldview (Powder Springs, GA: American Vision, March 2003) vol. 19, num. 3, pp. 3-4.
81. Benjamin F. Morris, The Christian Life and Character of the Civil Institutions of the United States (Powder Springs, GA: American Vision, Inc., 2009, originally published 1864) pp. 296-97.
82. Timothy Dwight, quoted in Isaac Kramnick and R. Laurence Moore, The Godless Constitution: A Moral Defense of the Secular State (New York, NY: W.W. Norton & Company, 1966) pp. 105-06.
83. Humanist Manifesto II, www.americanhumanist.org/who_we_are/about_humanism/Humanist_Manifesto_II.
*We are admonished in Matthew 10:8 "freely ye have received, freely give." Although there is a suggested price for our books, we do not sell them. In keeping with 2 Corinthians 9:7, this ministry is supported by freewill offerings. If you cannot afford the suggested price, inform us of your situation, and we will be pleased to provide you with whatever you need for whatever you can send.
---